Delije Shoal Bay Camp

An annual Basketball camp organised by Delije Basketball Academy will take place in Shoal Bay.  For the past ten years, more specifically at the Shoal Bay Resort & Spa that lies on the white sands of Shoal Bay, by the entrance to Port Stephens, overlooking the magnificent volcanic headlands and spectacular bay and surrounding area. Boasting crystal clear waterways, white sandy beaches and extensive National Parks with unspoiled bushland. Shoal Bay is certainly one of best places to hold a basketball camp.  Every year we gather about 50 children from around Sydney to the sandy beaches, the surrounding mountains, national parks, as well as in the hall PCYC NELSON BAY where the kids bond, train and learn the techniques of the beautiful game for the 5 days the camp lasts. The team at Shoal Bay Resort & Spa go out of their way to help the children and participants of camp to make them feel safe and welcome.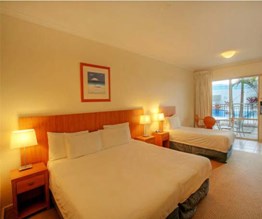 The Campers will be accommodated in the villas pictured below. Overlooking the lagoon style Resort pool with its own beach and wading area, these 4.5 star studio hotel rooms are the centrally located, sleeping up to 3 to 4 guests including bathroom, tea/coffee making facilities, TV, fridge and microwave are the perfect solution for kids to have proper rest after a day of hard training.

A highlight of the Camp is the cuisine of renowned chefs. Their talent and creativity have earned the resort a reputation as one of the region's most desirable. The chef's are making sure the food they serve is very healthy and filling for our children. The children will be eating in one of the best restaurants of the resort.
Professional Program
The realization of the entire camp program is from the NSW Metro Development programs and of various Camps in Serbia. Program and training appropriate for the age and current skill level of the group the children will be selected in. Everyday, 4 training sessions are held, combined with running and working with the ball. A lot of the competition is organised so the children receive sportiness and winning attitude. The main goal of the camp is to improve the technique of working with a ball as well as the physical condition of each individual to realise that a basketball game can bring them a lot of satisfaction and joy.
Camp Objectives
This camp is designed for young boys and girls who want to learn the basics and to improve on their level of basketball. Campers will be divided into groups according to age and skill level. Every child will have a chance to improve their skills as well as physical condition. Why this camp seems different to other camps is that we offer children a safe environment with professional workers and experienced coaches. In the period of 5 days they learn to take care of themselves, to be part of the team as well as to improve their physical fitness, work on their weaknesses and improve on their basketball ability.
What to expect
MOTIVATION
#   Professional Coaches
#   Experienced staff
#   Fundamental basketball skills –ball handling, passing, dribbling, shooting
#  GAME SITUATION – Spacing, movement off of a screen, 1-on-1, attacking and defense
#   PHYSICAL PERFORMANCE – Increase speed/agility, build explosive power, increase endurance, reduce chance of injury
ADVANCE TECHNIQUES – Reading a defense, fast breaks, post move (high and low post) running a team as a point guard, creating your shot, help defense.
ORAL AND MENTAL – CONFIDENCE, LEADER, FOCUS ATTITUDE
# SUPERB FACILITIES
Other Activities
During the camp there are opportunities for the team to enjoy a range of activities including dolphin watching cruises, kayaking, enjoy sand dune tours, trail rides, tobogganing and quad biking before setting out to discover the sweeping views of the area from Tomaree National Park.
Dolphin Watch, Bike rides,  Kayaking, Views from Tomaree, Sand dunes,…
CAMPS
WE HOLD:
1 -2 day camp
5 – day camps
1-2 DAY CAMP
-INFORMATION
-PLAN AND PROGRAM
-FREQUENTLY ASKED QUESTIONS
INFORMATION
–   WHEN IS THE CAMP?
–   Camp is held usually in the School Holidays?
–   WHERE IS THE CAMP USUALLY HELD?
–   Usually at the Auburn Basketball Stadium or the Bankstown Basketball Stadium
–   START & FINISH TIMES?
–   Camp starts from 9:00 am – 15:00 pm
PLAN AND SCHEDULE
SCHEDULE
–   Gathering 8:45am for check in
–   Camp start 9:00am – 11:30am – first section
–   Lunch time 11:30am – 12: 15pm
–   Camp continues 12:30 pm – 15:00 pm – second section
–   Camp concludes  15:00 – 15: 10
FREQUENTLY ASKED QUESTIONS
–   How do I sign up for the Camp ?
–   You can do this via the website
–   HOW CAN WE PAY FOR THE CAMP?
Camp fees can be paid into the Delije Basketball Academy account number, cheque or cash on the day
–   DO I NEED TO BRING ALONG A BALL?
Yes, you will need to bring your own ball
–   DO I NEED TO BRING MY LUNCH?
Yes, lunches are not provided
–   DO I NEED TO BRING A BOTTLE OF WATER?
Yes
–   CAN PARENTS SIT AND WATCH THE CAMP?
Of course they can. We encourage people to come along and see what we are doing and the atmosphere in which the camp is held
5 – DAY CAMP
INFORMATION
–   Where is the camp held?
Shoal Bay
–   When is the camp?
–   Delije will hold the camp usually in the first or second week of the school holidays in April.
–   How much does the camp cost?
The cost of the camp is inclusive of travel to and from the camp, training, breakfast and dinners, stay at a 4.5 star resort, training facilities and a camp.
Where will we train?
In and around Shoal Bay as well as YMCA in Nelson Bay
–   What do we need to bring along with us?
Delije training top, swimming costume, a couple of items to go out in, many of socks, a few more items for training as well as a lot enthusiasm
–   Who heads up the camp?
The person in charge is also the head trainer and coach, Misha Putica.
PLAN & ACTIVITIES
Day 1  = Group gathers and travels to Shoal Bay. At arrival place bags in room two trainings
Day 2 – 4 = 4 trainings per day – two on the beach and mountain and two at the PCYC.
Day 5  = Last training, party the night before, see the sand dunes and travel home for a well earned rest.
A TYPICAL DAY AT CAMP
7 :00 am  = Get up from bed
7:15am = Breakfast
8:00 am = First training
11:00 am = Second training
13:00 pm = Cool down in pool, lunch
15:30 pm = 3rd training
19:00 pm = 4th training
20:00 pm = Dinner
10;30 pm = Free time
10:45 pm = Sleep, lights out
FAQ
1. How do we travel to camp? 


---
To and from the camp, a 52 seater coach will transport all the campers and coaches. The coach consists of seat belts, airconditioning, DVD player and toilet.
---
2. Can I request who I would like to share a room with?


---
Yes you can, just request this on the form.
---
3. WHO CARES ABOUT THE PROGRAM IMPLEMENTATION AND CAMP?


---
The manager of the camp, Natasha Putica with assistance – she will take care we get to where we need to in time allocated. The head coach and trainer, Misha Putica will take care of the fitness and basketball programs.
---
4. 4. If I am allergic to foods or other things, or have special requirements for food what should I do?


---
You will need to let the manager know and we can make sure all precautions are taken.
---
5. How can I apply for the camp?


---
Either on the Delije Basketball Academy website, telephone, email or form.
---
6. How can I pay for the camp?


---
You can either transfer money into the Delije Basketball Academy account, or pay cheque or cash.
---
7. Can I take with me my mobile phone, games or computer to camp with me?


---
Not a problem, but the camp officials will not take any responsibility for any of your items. The camp manager will take phones from each camper every night at approx 8pm, the campers will get all phones back at breakfast the next day.
---
8. Can parents come along?


---
Yes. As parents can see for themselves what happens at camp and what type of atmosphere their children are in.
---
9. Where do we get pick up?


---
We have two places to be picked up, one is usually in Liverpool, at the bus station there and the other is in front of The King's School on Pennant Hills Road, North Parramatta.
---